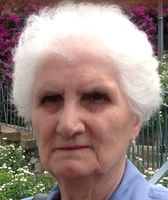 Anna Montella
Anna Montella, 87, of Netcong passed away on Monday April 17, at home, surrounded by her loving family.
Born in Baiano, Italy on May 6, 1929 to the late Pellegrino and Rosa (Candella) Polo, Anna came to the United States in 1963 and settled in Netcong. Anna was a devoted Housewife, and also worked at Dover Handbag in Netcong. She enjoyed playing bingo, canning, baking, cooking, sewing and going to casinos. She loved working in her family's restaurant and traveling to Italy to visit her family.
Anna was predeceased by her son Stefano and her seven siblings.
Beloved wife of Antonio, Loving mother of Maria Patamia, dear mother in law of Tom Patamia and adoring grandmother of Stefano Patamia.
Anna's Life Celebration will include viewing on Thursday, April 20, from 4:00 – 8:00 PM at Leber-Lakeside Funeral Home, 150 Landing Road, Landing, NJ. A funeral Mass will be offered on Friday, April 21, beginning at 10:00 AM at St. Michael's RC Church in Netcong. Anna will be laid to rest at Stanhope Union Cemetery in Mt. Olive Township.