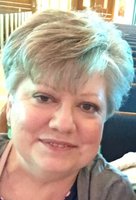 Constance "Connie" Bearfield
Constance "Connie" Bearfield, 56, of Hopatcong, passed away peacefully on Monday December 11 at St. Clare's Hospital, Denville Campus surrounded by her loving family.
Born in Denville, Connie has resided in the Heights section of Hopatcong for 34 years. She worked for Casio in Dover and BJ's Wholesaler Club in Ledgewood. Connie loved the beach, especially Long Beach Island, NJ and Aruba, going out to dinners with family and friends and playing games on her smartphone. She was especially fond of the Price Is Right gameshow, but her greatest joy and skill was being a mother to her devoted daughter, Carolyn.
Connie was predeceased by her husband, David in May of this year.
In addition to her daughter, Connie is survived by her parents, Pat and Jane Keyes, five siblings, Cherrie (Scott) Markwood, Sandy (Mike) Herrera, Tracey (Marc) Martino, David (Christy) Keyes and Jerry (Sherry) Keyes and her Godmother Mary (Walter) Kamienski. Also surviving many cousins, nieces, nephews and dear friends.
Connie's Life Celebration will include visiting on Saturday December 16 from 1:00 – 3:00 PM at Leber-Lakeside Funeral Home, 150 Landing Road, Landing, NJ. A family eulogy will be offered at 2:30 PM at the funeral home. Cremation is private. For memorial donations, please consider St. Jude Children's Research Hospital at www.stjude.org.