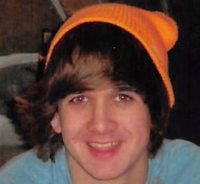 Ryan Shawn Sheridan
Ryan Shawn Sheridan, 25, of York, PA, formerly of Hopatcong, NJ, passed away suddenly on Sunday December 31, 2017 at his family home.
Born in Livingston, NJ on October 5, 1992 to Shawn and Dawn (Tobia) Sheridan, Ryan lived in Hopatcong for most of his 25 years. He was a graduate of the Hopatcong High School class of 2011 and a four year member and captain of the varsity soccer team. After high school Ryan continued his education at Morris County Community College where he was also a member of the soccer team. He was most recently employed as a Restaurant Manager at Buffalo Wild Wings in York, PA.
Ryan enjoyed playing soccer, using his culinary skills, playing video games, watching all sports, cheering on his favorite team, the NY Jets, and hanging out with his dogs, Grams & Toby. Above all else, he loved spending time with his girlfriend and the love of his life, Lindsey. Ryan was a devoted son and big brother. He was known for his infectious smile, his bright green eyes and his irresistible charm.
Survivors include his parents, Shawn and Dawn Sheridan, two siblings Jennifer and Mark Sheridan, two grandmothers, Marie Tobia & Judith Sheridan, his girlfriend Lindsey Corrado, his beloved dogs Grams & Toby and a large extended family of loving aunts, uncles and cousins.
Relatives and friends are respectfully invited to attend Ryan's Life Celebration on Thursday January 4, 2018 from 4-8 PM at Leber-Lakeside Funeral Home, 150 Landing Road, Landing, NJ. A Funeral Liturgy will be offered on Friday January 5, 2018 beginning at 10:30 AM at St. Jude Roman Catholic Church, 40 Maxim Drive, Hopatcong, NJ. Cremation will be private. In lieu of flowers, please consider donating in Ryan's name to the Hopatcong Animal Pound Project, 378-398 Durban Ave, Hopatcong, NJ 07843.