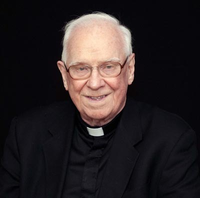 Rev. Desmond O'Connor, SPS
Reverend Desmond O'Connor, SPS, of Mt. Arlington, passed away on Wednesday January 10, 2018.
Born in Sligo, Ireland on July 12, 1926 to the late Thomas and Bridie (O'Donnell) O'Connor, Father O'Connor was educated at Summerhill College in Sligo and St. Patrick Father's Seminary in Kiltegan, County Wicklow, Ireland. He was ordained into the Priesthood on Easter Sunday (April 9), 1950 and went on mission to Nigeria from 1950-1979 when he was appointed Regional Superior in Cliffside Park, NJ until 1982. Father O'Connor then became Associate Pastor at Our Lady of the Lake Church in Mt. Arlington.
In addition to his parents, Father O'Connor was predeceased by his brother Donal.
He is deeply mourned by his brothers, Kevin and Brendan O'Connor and sister, Sister Marianne O'Connor, sisters-in-law, Vera, Betty and Helen, many nieces, nephews, grandnieces and grandnephews in Ireland and in America, cousins and a wide circle of friends and parishioners.
A visitation will be held on Monday January 15, 2018 from 2-7PM at Our Lady of the Lake Church, 8 Windermere Avenue, Mt. Arlington, NJ. Evening Prayer will be celebrated at 6:00PM Monday evening. The Mass of Resurrection will be offered on Tuesday January 16 at 11:00 AM also at the church. Father O'Connor will be laid to rest in St. Patrick's Kiltegan, Ireland. If you wish to send flowers, please consider sending a donation in lieu to the Dominican Sisters of Hawthorne, 600 Linda Avenue, Hawthorne, NY 10532 or at http://www.hawthorne-dominicans.org.