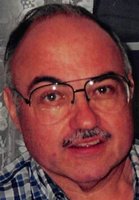 Frank P. Spinner
Frank P. Spinner, 69, of Byram Township, passed away on Sunday February 4, 2018 at Kindred Care in Dover, NJ.
Born in New York City, on October 3, 1948 to the late Frank and Sophie (Zombrowski) Spinner, Frank grew up there and graduated from Thomas Edison Vo-Tech where he studied electricity. After graduation, Frank moved to Byram, NJ and kept close contact with his friends and their families his entire life.
Frank was employed at Thatcher Glass in Wharton for 15 years as a Maintenance Man, working his way up to Maintenance Supervisor. He then worked for numerous companies as Maintenance Supervisor and earned his Black Seal Certification. Frank also served as a Special Police Officer for Byram Township in the 1970's. Frank enjoyed fishing, boating, going to craft shows and building different scales of model railroads in his basement. Most of all, Frank loved to make his friends and family laugh with his pranks and practical jokes.
Frank was predeceased by a sister, Barbara Kubik.
Survivors include his sister, Helen Homeijer and her husband, Leo, brother, Thomas Spinner, brother in law, Leonard Kubik, nephews, Daniel and Brian Homeijer, Thomas Spinner and David and Adam Kubik, and Great nephews and great nieces, Jacob and Noah Spinner and Jackson, Eric, Anna and Olivia Homeijer. Also surviving are many close friends and their families.
Frank's Life Celebration will include visiting on Thursday, February 8, from 4-8PM at Leber-Lakeside Funeral Home, 150 Landing Road, Landing, NJ and a funeral service on Friday, February 9, at 10:30 AM at the funeral home. Relatives and friends may gather at the funeral home on Friday morning at 10:00 AM. Frank will be laid to rest at Stanhope Union Cemetery in Mt. Olive Township. For memorial donations, please consider National Kidney Foundation at www.kidney.org.