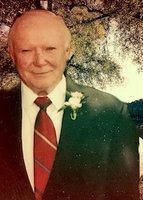 James A. Long
James A. Long, 86, from the Landing section of Roxbury Township, passed away, peacefully, on Friday February 9th at his home surrounded by his loving family.
Born in Jersey City on May 30, 1931 to the late Harry and Mary (Hicks) Long, James moved to Denville in 1961 and then resided in Hopatcong prior to moving to Landing in 1975. He served proudly in the United States Marine Corps during the Korean War from 1949-1952, where he took part in the battle of the Chosin campaign. James was a Mechanical Engineer at Picatinny Arsenal for 27 years prior to retiring in 1987. During his employment, James designed rocket components. He is credited as the inventor on multiple US Army patents. James loved Lake Hopatcong, where he spent time behind the helm of his patio boat while taking friends and family on lake tours. He enjoyed skiing at Killington and was an early, well-respected member of the High Life Ski Club. He was instrumental in the acquisition of their lodge in Chittenden, Vermont. James participated for many years in the Great Delaware River Raft Race. He won twice. His rafts were noted for their designs. At home, he was famous for his social gatherings. His door was always open to friends and family.
Survivors include; two daughters, Donna Long, her partner Glenn Kunstle, and Robin Bebo-Long , her husband, Todd; three grandchildren, James Long, his wife Tamara and Dakota and Sahara Bebo; and two great grandsons, Jack and Patrick Long.
James was predeceased by two sisters, Ethel Silkowski and Helen Elias and two brothers, Frank Long and Harry "John" Long.
James' Life Celebration will include visiting hours on Friday, February 16th from 1-3 PM and 5:30-7:30 PM at Leber-Lakeside Funeral Home, 150 Landing Road, Landing, NJ. A Catholic Blessing will be offered at 6PM Friday evening at the funeral home followed by a family eulogy. James' cremation will be private. For memorial donations, please consider the Disabled American Veterans at www.dav.org.