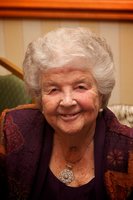 Catherine "Kay" Heilman
Catherine "Kay" Heilman, 90, of Mt. Arlington, formerly of Totowa, passed away, peacefully, on Sunday February 11, 2018 at Morristown Medical Center surrounded by her loving family.
Born in Paterson on May 9, 1927 to the late Edward and the late Mary (Fairclough) Van Hefter, Kay resided in Totowa for 50 years before moving to Mt. Arlington in 2006. She was an active member of, both, the Totowa Seniors and Mt. Arlington Seniors. Kay loved to travel! Although she would not go in an airplane, that did not keep her at home. She traveled by car, bus and by train but her most favorite way to travel was on a cruise ship. Her hobbies included ceramics and reading, as well as, playing Pokeno, Bingo and slot machines. She enjoyed watching "old" movies and was the go to person if you forgot the name of a movie or actor. Although Kay enjoyed her interests and hobbies immensely, her greatest joy was spending time with her devoted family.
Survivors include her husband of 67 years, Clifford, daughter Lori McCann and her husband, John, son Clifford Heilman and his wife, Christine, grandson, Jonathan McCann and his wife, Nicole, two granddaughters, Nicole and Ashley Heilman and a great granddaughter, Catherine Rose McCann.
Kay's Life Celebration will include a memorial gathering on Saturday February 17 from 12:00 – 2:00 PM at Leber-Lakeside Funeral Home, 150 Landing Road, Landing, NJ. A Catholic Blessing will be offered Saturday at 1:30 also at the funeral home. The remainder of services are private. In lieu of flowers, please consider The American Heart Association in loving memory of Kay.