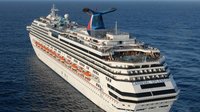 Richard E. George
Richard E. George of Lake Hopatcong, NJ passed away peacefully on Saturday, February 17, 2018 at Compassionate Care Hospice in Dover surrounded by his loving family. He was 86 years old. Mr. George was born on January 13, 1932 in Newark, NJ to the late Arthur and Mary (Gilligan) George.
Mr. George owned and operated Circle West Motors in Ledgewood, NJ for 45 years. He was a longtime resident of Lake Hopatcong and enjoyed living & boating on the lake. He was a Korean War Veteran who proudly served his country in the United States Airforce. Richard enjoyed taking cruises around the world and along with his beloved wife, Janet, he experienced more than 90 individual cruise trips. He also held a private pilot license and owned his own airplane.
Richard is survived by his beloved wife of 62 years, Janet, his devoted daughters, his daughter-in-law, his brother, Robert and his cherished grandchildren, Brandon and Hunter and his step-grandchildren, Anthony and Christiana. He was pre-deceased by his son, Kenneth in 1992.
Richard's Life Celebration will include visitation on Friday, February 23rd from 1:00 pm to 5:00 pm with a Prayer Service offered at 4:30 pm immediately followed by full military honors all at Leber-Lakeside Funeral Home, 150 Landing Road, Landing, NJ.