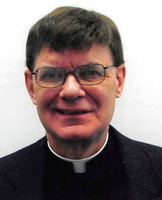 Rev. Kenneth R. Hewitt
Rev. Kenneth R. Hewitt died in the Lord on March 23, 2018. He now joins his beloved parents, Jeanne and Jack Hewitt in eternal life.
Born in Nutley, NJ, he was raised in Clifton and Morris Plains. He graduated from St. Virgil's School in Morris Plains, and the former Bayley Ellard High School in Madison, NJ.
After attending Seton Hall University, he was sent to Wadham's Hall in Ogdensburg, NY, from which he graduated with a BA in Philosophy. He was then sent to St. Mary's Seminary and University in Baltimore, MD, graduating with a Masters in Divinity. During these years he was granted permission to study with the University of Maryland. He was one of twelve educators who opened the first resource rooms in Baltimore to help middle school at-risk students in the areas of reading and mathematics.
Following ordination to the Diaconate in March 1976, he worked in St. Rita's Parish in Dundalk, MD, and Holy Trinity Parish in Passaic. Ordained to the Priesthood on May 14, 1977, he was assigned to St. Jude's Parish in Budd Lk, NJ. In 1980 he transferred to St. Mary's Parish in Dover, NJ. There he did parish work as well as teaching full time in the school. He was forced to retire because of the debilitating effects of late-diagnosed Chronic Lyme Disease.
Survived by his close friends/family, John Gorecki, Theresa Hourigan, MaryAnn Kopas and family, Sr. Pat McDermott FSP, he is also survived by his wonderful niece, Jennifer Brewer, & her husband, Dana, and their two children, Grant and Amanda. He also leaves his beloved aunt and uncle, Janet and Russel Hird, of Rochester, MN; three cousins Greg, Gary, Cindy: six nephews; and two sisters and a brother.
A Memorial Mass will be celebrated on Thursday, May 17, 2018, at 3:00 at Resurrection Catholic Church, Randolph, NJ. Memorial gifts may be made to Resurrection Catholic Church, 651 Millbrook Ave, Randolph, NJ 07869, in Fr. Ken Hewitt's name.
Arrangements by Leber-Lakeside Funeral Home, Landing.