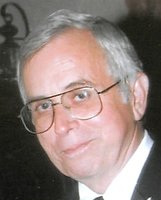 Louis "Bob" "Bob" Nitting
Louis "Bob" Nitting, 74, of Lake Hopatcong, passed away on Saturday February 11, 2017 at Morristown Medical Center.
Born on December 7, 1942 in Jersey City, Bob resided in Lodi before moving to Lake Hopatcong five years ago. He enjoyed fishing, boating and the outdoors, but his greatest joy was spending time with his family. He served proudly in the United States Army.
Survivors include his wife, Teresa (Ducoat), three children, Peter and wife, Flutur, Louis and Gina Leiser and husband, Darren, three grandchildren Alexa and Andrew Nitting and Emily Leiser and a brother Joseph Cairns.
Bob's Life Celebration will include a memorial gathering on Wednesday February 15 from 6:00-7:00 PM at Leber-Lakeside Funeral Home, 150 Landing Road, Landing, NJ. A Catholic Blessing will be offered at 7:00 PM at the funeral home. Cremation was private.