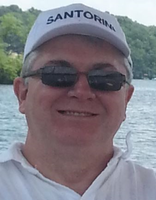 Richard M. Gaul
Richard M. Gaul of Hopatcong, NJ passed away peacefully on Wednesday, December 20, 2017 at home surrounded by his loving family. He was 60 years old. Richard was born on September 15, 1957 in Newark, NJ to Agnes (Dolan) and the late Richard Gaul.
Rich was a bus mechanic for NJ Transit in Nutley, NJ for 37 years before retiring a year and a half ago. He resided in Irvington, NJ before moving to Hopatcong in 1991. Rich's hobbies included: watching his teams the NY Giants and the NY Mets, history, his HO model railroad, cooking, working on our home, drawing/painting, woodworking, and listening to music. He enjoyed decorating his home for Christmas and he was very proud of his Irish Heritage.
Richard is survived by his beloved wife of 15 years, Christine (Heinzelmann), his mother, Agnes Gaul, his sisters, Patricia Andragna (Frank) and Kathleen Gaul (Alli), his brothers, Robert and Thomas, his nieces and nephews; Richard, Frank, Rachel, Ava and Isabella, his mother-in-law, Margaret Heinzelmann and his brother-in-law, Ralph Heinzelmann. He was pre-deceased by his father, Richard in 1986 and his father-in-law, Werner Heinzelmann in 2008.
Rich's Life Celebration will include visitation on Wednesday, December 27th from 2:00 pm to 6:00 pm at Leber-Lakeside Funeral Home, 150 Landing Road, Landing, NJ. There will be a funeral service offered at 5:00 pm at the funeral home. For memorial donations, please consider Lakota Wolf Preserve, c/o Jim @ Lakota, 89 Mount Pleasant Road, Columbia, NJ 07832 - #973-625-6520 please send via mail or website www.lakotawolf.com donations are sponsoring "Shiloh" (biblical place in Genesis 49:10 meaning "peace".)