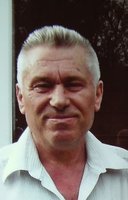 Kiro Atanasoski
Kiro Atanasoski passed away peacefully, shortly after midnight on Monday, January 21, 2019 at Compassionate Care Hospice in Dover, NJ.He was 71.
Kiro and his eight siblings grew up in the Village of Marul, Macedonia. In the late 70s, he and his twin brother, Metodija came to New York City where Kiro went on to be the superintendent of an apartment building in the Inwood neighborhood of Manhattan for more than two decades.
He retired seven years ago and moved to Stanhope, NJ with his wife, Neda.
A member of Sts Kiril and Metodij Macedonian Orthodox Church in Cedar Grove, Kiro loved being around people. He had a natural gregarious charm that enabled him to make a special connection with everyone he met. He was a jokester, a family man, and an all-around good guy.
He leaves behind his wife, Neda; 3 daughters, Silvana, Jenny, and Olivera; and his 4 grandchildren, 1 brother, and 3 sisters.
Relatives and friends are respectfully invited to attend Kiro's Life Celebration on Friday, January 25 from 5:00PM to 9:00PM at the Leber-Lakeside Funeral Home, 150 Landing Road, Landing, NJ.
A Funeral Service will be held on Saturday, January 26 at 8:30AM at Sts. Kiril and Metodij Macedonian Orthodox Church, 1050 Pompton Avenue, Cedar Grove, NJ.
Kiro will be laid to rest following the funeral service in the East Ridgelawn Cemetery in Clifton.
In lieu of flowers, memorial donations can be made to a charity of your choice.