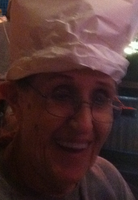 Carolynn F. Barnette
Carolynn F. Barnette of Hopatcong, NJ passed away peacefully on Thursday, February 28, 2019 at Newton Medical Center surrounded by her loving family. She was 73 years old. Carolynn was born on April 2, 1945 in Lyndhurst, NJ to the late Frank and the late Mary (Smallneck) Vallacovic.
Carolynn was a longtime resident of Hopatcong and was employed as a phone operator at the Home Depot in Ledgewood, NJ for many years before retiring. She enjoyed trips to the casinos and had a beautiful collection of bear figurines but most importantly, she loved spending time with her cherished family and friends.
Carolynn is survived by her beloved husband of 45 years, Leonard H. Jr., her son, Leonard H. III, her sister-in-law and brother-in-law; Beverly and William Spicer and her niece, Janelle (Brian), extended family and dear friends.
Carolynn's Life Celebration will include a visitation on Tuesday, March 5th from 4:00 pm to 8:00 pm with a 7:30 pm Catholic Prayer Service and Blessing at Leber-Lakeside Funeral Home, 150 Landing Road, Landing, NJ. For memorial donations, please consider a Save the New Jersey Black Bear Program of your choice.