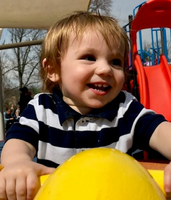 Devon Richard Chasse-Williams
Devon was the best thing that happened to us.
The vibrant, amazing, intelligent little red head that brightened up everyone's day with his silly little "hello" or "hi hi "
He was our, blessing miracle baby conceived in Ireland's magic.
Powerful little Viking toddler who loved music, carbs and bananas. That was our boy.
You never know what life brings you.
You never know how fast death comes.
One second he was running through the yard watching his brothers sword fight- the next second he is gone.
Angel baby, now his soul forever free. Giving us his energy to survive the days ahead.
Blessing our lives with his memory.
Devon Richard we love your sparkling eyes, your silly laugh and know it will echo forever in our hearts.
Devon's Life Celebration Services will include a Memorial Gathering at an off-site location. For additional details, please visit www.gofundme.com/the-tragic-and-unexpected-death-of-devon-williams.