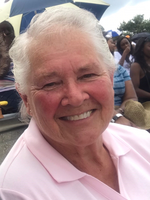 Claire "Bunny" Finlay
Claire (Bunny) Hunter Finlay
On Tuesday, July 30, 2019, Claire Finlay died unexpectedly and peacefully at home; she was 77. Bunny was a lifelong resident of Hopatcong, beloved wife, mother, grandmother, great grandmother and sister.
She was born to the late George and Elsie (Hahn) Hunter on April 5th, 1942. Bunny was an amazing person. She lived in Hopatcong her entire life, graduating from Dover High School in 1960 and Mountainside School of Nursing in 1962. She worked at Merry Heart Nursing Home and then worked for Dr. Paul Simon, D.O. in Lake Hiawatha, N.J. until her retirement in 1990.
If you knew Bunny you can consider yourself lucky. Her smile was infectious, she loved life, her family and the people around her. In the past 10 years, Claire became an accomplished watercolor artist, winning many blue-ribbon awards at the Sussex County Fair and at the State level. She was a member of the Central Sussex Garden Club and active for many years in the Morris Area Girl Scout Council as a leader for 3 different troops, and a trainer, teaching camping and cooking skills at Jockey Hollow. She received many awards in scouting including the "Thanks" Award.
Bunny married Fred Finlay, the love of her life, in 1976. They would have celebrated their 42nd wedding anniversary on October 22nd. She was a wonderful, caring, loving and generous person who was involved in many organizations including the Fresh Air Fund, and the Foreign Exchange Student program, staying close with one of her Foreign exchange students who recently visited with his family from Australia.
Surviving family members are her husband Fred, two children Tracy Impink and her husband Roy, Scott Capwell and his wife Kathy, three grandchildren - Kelly (Impink) Bracco and her husband Mike, Ariel Capwell and her fiancé Kevin Farley and Dylan Capwell, and her great-grandchild Dominic Bracco. She is also survived by her brother George Hunter and wife Linda, three nieces - Heather Smith, Amy Shorter and Megan Ruf and last but not least her golden retriever Finlay.
A Memorial Service will be held at Leber-Lakeside Funeral Home, 150 Landing Road, Landing, NJ on Friday, August 9th, from 3-7 p.m.
A Prayer Service will be held at 6:30pm at the funeral home.
In lieu of flowers donations can be sent to St. Jude Children's Research Hospital or The Fresh Air Fund.