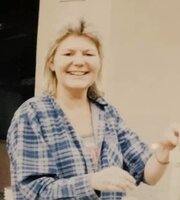 Aileen S. O'Hern
Aileen S. O'Hern of Landing passed away Monday March 21, 2022 at UMDNJ – University Hospital, Newark.
She was 64.
Born in Boonton, she lived in Whippany before moving to Landing 34 years ago.
A waitress with the Canal House in Wharton, Aileen enjoyed the beach, relaxing in her swimming pool and enjoying the sunshine, her dogs and spending time with her grandchildren.
She is survived by her husband Thomas O'Hern, her daughter: Kristen Casey, her step-children: Thomas William O'Hern III and Kelly Stritenberger, her grandchildren: Alaina Casey, Mya Casey, Sydney Strintenberger and Cali O'Hern, her sister: Laura Bean, her step-sister: Dodie Yobs and her step-brother Walter Kamienski, Jr. She is also survived by her step-mother Mary Kamienski and predeceased by her father Walter Kamienski
Cremation arrangements are private.
Memorial donations may be made to the 11th Hour Rescue (www.ehrdogs.org)