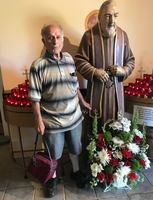 Joseph Colavita
Joseph Colavita, 83, of Hopatcong passed away on Monday, March 6, 2023 at St. Clare's Hospital, Denville Campus.
Born in S'Elia Pianisi, Compobasso, Italy on March 20, 1939 to the late Leonardo and Elisabetta Colavita, Joseph came to the United States in 1955. He has resided in Hopatcong for 37 years. Joseph was retired from his occupation as a Union Electrician for IBEW of Parsippany, NJ.
Joseph was a devoted parishioner of St. Jude's RC Church in Hopatcong where he volunteered many hours maintaining the church's building and grounds.
Survivors include his wife Florence (Valentino), children Leonardo Colavita, Cathy Colavita and Bettyjo Coats as well as his grandchildren Nicholas, Isabella and Evan Coats as well as numerous cousins in Italy and Canada.
Joseph's cremation was private and entrusted to Leber-Lakeside Funeral Home, 150 Landing Road, Landing, NJ. For memorial donations, please consider a donation to the ASPCA.